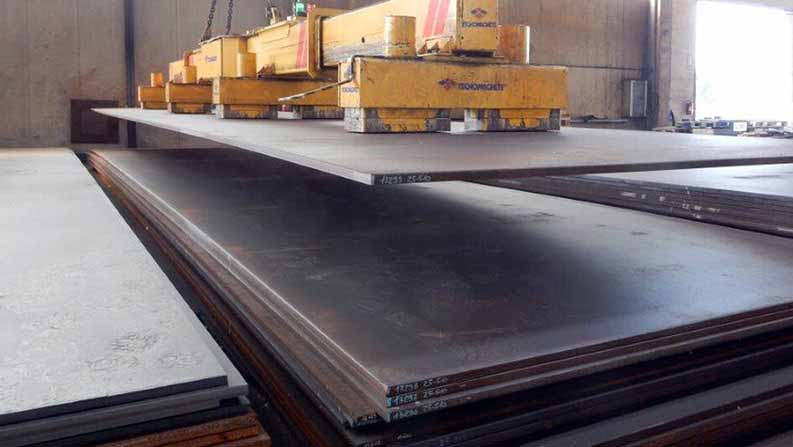 200 BHN Liner Plates, 200 BHN Plates, 200 BHN Steel Plate Distributor, 200 Brinell Hardness Number Plate, 200 Abrasion Resistant Steel Plates, Gr 200 BHN Plates Stockist in Mumbai, India.
200 BHN Hot Rolled Steel Plate, 200 BHN High Yield Strength Plates, 200 BHN HR Steel Plates Dealer, 200 BHN Wear Resistant Plates, 200 BHN Structural Steel Plates Exporter, Grade 200 BHN Steel Plates Supplier in India.
Conquest Steel & Alloys is one of the leading manufacturers in the field of supplying different types of plates which can be availed in the different alloys. On the other hand, we are also well known suppliers, traders, wholesalers and exporters of the high quality product like 200 BHN PLATE in the global as well as domestic market. All our products are suppliers and manufactured after following all the national and international standards. Plates are available in variant shape, size, thickness, dimensions, designations, standards, specifications, grades, ranges, alloys, etc. But the most demanded types of plates are 200 BHN Wear Resistant Plates in the competitive market today and from many years now. These plates are much popular for its extraordinary tensile strength when exhibited and used in the application industries lie the construction applications. Many such industries vary in temperature conditions according to its working but these plates are able to handle and work in all types of working temperature conditions varying from low to high or vice versa.
Other properties of these plates are that it provides good mechanical and chemical properties, strength properties such as higher yielding strength, higher mechanical strength, etc. It can be used for a larger span of time since its durability and reliability properties are greater then any other plates. These plates are excellent in offering resistance properties such as corrosion resistance, oxidation resistance, pitting and crevice resistance, abrasion resistance, chloride stress and cracking corrosion, erosion corrosion resistance, etc.
In addition to this other features which is quite appreciable of 200 BHN Abrasion Resistant Plates are good weldability, docility, it is easy to install, easy to fabricate, it is rust proof, it fulfill all the engineering usages purposes, etc. Some of the popular applications where such plates are largely used are because of its higher tensile strength are- liner plates, automobile industries, loaders, conveyer belts plates, dumber bodies plates, petrochemical industries, chemical industries, pumps, etc. We at Conquest Steel & Alloys conduct various tests on our all products to ensure the quality of the product and some of the tests are macro test, micro test, hardness test, toughness test, destructive test, PMI test, etc.
200 BHN Steel Plate Specification :
Thickness : 2mm, 2.5mm, 3mm, 4mm, 5mm, 6mm, 8mm, 10mm, 12mm, 15mm, 18mm, 25mm- 32mm, 32mm-45mm, 45mm-51mm, 51mm-80mm, 80mm- 130mm.
Item : 200 Structural Steel Plate
Width : 1000mm, 1500mm, 2000mm, 2500mm , cut widths provided.
Length : 2000mm, 2500mm, 3000mm, 4000mm, 4500mm, 5000mm, 6000mm, Cut lengths provided.
Available Range :
Steel Plate- GRADE C45, TISCRAL, Lloyds LAS07 & Sail Hard Steel Plate
200 BHN Plate Chemical Composition
| | | | | |
| --- | --- | --- | --- | --- |
| C | Mn | S | P | Si |
| 0.23 max | 1.6 min | 0.05 max | 0.05 max | 0.5 max |
200 BHN Steel Plates Mechanical Properties
| | |
| --- | --- |
| Mechanical Properties | HARDNESS-200 BHN (Min) |
| CE+ | HARDNESS-200 BHN (Avg).SAIL HARD | | 200 bhn steel plate. |
Conquest Steel and Alloys Also Distribute Other Types of 200 BHN Plate Namely :
200 Brinell Hardness Number Steel Plates Exporter in india, 200 Industrial Plates Supplier in Mumbai, Hot Rolled 200 BHN Plates, Grade 200 BHN Wear Resistant Plates, Gr.200 BHN Steel Plates In India, HR 200 BHN Plate, 200 BHN Carbon Steel Plates Stockist, 200 BHN Steel Plate, 200 BHN Structural Steel Plates, 200 BHN High Strength Structural Plates, 200 BHN Abrasion Resistant Steel Plates, 200 BHN Plate, 200 BHN High Yield Strength Plates Exporter, 200 BHN Abrasion Resistant Plate Based in Mumbai, India.
200 BHN Plate We Supply Globally :
We Supply Our 200 BHN Steel Liner Plates to various countries like Chile, Saudi Arabia, Indonesia, Oman, Turkey, Argentina, Lithuania, Singapore, Sweden, Ghana, Kuwait, Japan, Bulgaria, Pakistan, Mexico, Jordan, United Arab Emirates, Norway, Iran, Yemen, Bhutan, South Africa, Greece, Lebanon, Angola, Sri Lanka, Afghanistan, United States, Egypt, Poland, Gambia, Venezuela, United Kingdom, Netherlands, Trinidad & Tobago, Chile, Hungary, Switzerland, Canada, Spain, Peru, Morocco, Austria, France, Thailand, Italy, Belgium, South Korea, China, Romania, Namibia, Tunisia, Puerto Rico, Malaysia, Russia, Macau, Ukraine, Nepal, Czech Republic, Colombia, Finland, Bolivia, Algeria, Belarus, Denmark, Portugal, Philippines, Slovakia, Kenya, Nigeria, Brazil, Estonia, Ecuador, Gabon, Mexico, Tibet, New Zealand, Taiwan, Mongolia, Azerbaijan, Kazakhstan, Croatia, Libya, Bangladesh, Iraq, Hong Kong, Australia, Costa Rica, Vietnam, Bahrain, Israel, Germany, India, Poland, Serbia, Nigeria, Iran, Ireland, Qatar, Zimbabwe.
200 BHN Plate We Supply Worldwide :
We Supply Our 200 bhn Abrasion Resistant Plate to various cities like Nashik, Visakhapatnam, Houston, Tehran, Ranchi, Howrah, Los Angeles, Lahore, Al Jubail, Brisbane, Vung Tau, Jakarta, Granada, Noida, Surat, New Delhi, Kuala Lumpur, Colombo, Doha, Al Khobar, Karachi, Riyadh, Chandigarh, Bogota, Santiago, Aberdeen, Navi Mumbai, Jeddah, Coimbatore, Dammam, Chennai, Busan, Pimpri-Chinchwad, Kolkata, Atyrau, Haryana, Ludhiana, Istanbul, Dubai, Cairo, Lagos, Sydney, Singapore, Perth, Kanpur, Secunderabad, Ankara, Gimhae-si, Ulsan, Montreal, Thane, Hyderabad, Mumbai, Thiruvananthapuram, Chiyoda, Gurgaon, Moscow, Hanoi, Abu Dhabi, Algiers, Petaling Jaya, Milan, Sharjah, Toronto, Edmonton, Ho Chi Minh City, Rio de Janeiro, Nagpur, Faridabad, Madrid, Kuwait City, Pune, La Victoria, Dallas, Bhopal, Ahmedabad, Ahvaz, Manama, Geoje-si, Hong Kong, Caracas, Jaipur, Melbourne, Seoul, Baroda, Bengaluru, Ernakulam, Courbevoie, Jamshedpur, Calgary, London, Mexico City, Indore, Rajkot, Bangkok, Muscat, Port-of-Spain, Vadodara, New York.
People Also Searched For
200 bhn wear resistant plates plate supplier, 200(bhn) brinell hardness number plates manufacturers in mumbai, 200 bhn structural steel plate, 200 bhn hr plate weight, 200 bhn plates stockist in mumbai, 200 bhn plate thickness, 200 bhn carbon plates equivalent grades, hot rolled 200 bhn steel plates size, 200 bhn abrasion resistant plates pdf, 200 bhn steel plate chemical composition, 200 bhn wear resistant steel plates price, 200 bhn plates mechanical properties, 200 bhn steel plates exporter, 200 bhn steel plate supplier in mumbai india, 200 bhn high yield strength steel plates price list, 200 bhn steel plate manufacturers in mumbai.